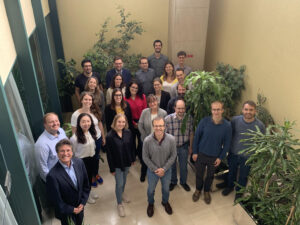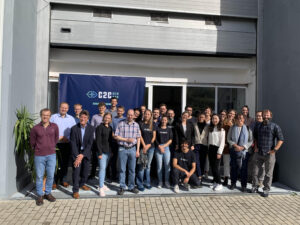 HYFLOW partners had a chance to visit C2C-NewCap facilities and enjoy Portuguese culture.
HYFLOW meeting in Lisbon
On October 26-27th, C2C-NewCap hosted the 7th HYFLOW project meeting, in Lisbon.
HYFLOW is an EU-funded project that aims to develop sustainable hybrid energy storage systems, using redox flow batteries and supercapacitors, for an efficient energy management. The project gathers 10 partners around Europe, promoting a dynamic environment for knowledge and technology transfer.
Technologies for a sustainable future
C2C-Newcap is responsible for testing new materials for supercapacitor electrodes, namely active carbons from EU-based, sustainable sources, and designing the supercapacitor module to be integrated with a redox-flow battery.
As the HYFLOW project reaches its final stages, the meeting was a great opportunity to have an overview of the demonstrators that are now implemented, and to fine-tune the strategies to fully achieve the project objectives, that will contribute for advancing EU expertise on the efficient energy storage from renewable sources. It was also a chance for partners to visit C2C-NewCap facilities and enjoy a bit of Portuguese culture.
You can find more information about the HYFLOW project here.
If you have interest in this application of supercapacitors, just reach out to us. We will be happy to exchange ideas!